As part of a series of Well Walks, this month saw TLC connecting with like-minded people
for an hour as we took a walk around the city - networking, fresh air and tea & mince pies! This month we specifically extended a special invitation to our new Ukrainian residents, so they could meet us, other people and employers in Baltic Creative area of the city. We planned a walk to show them the hidden parts of this creative city, sample the culture and meet new people.
We had an interesting and chatty 45-minutes walk, taking in the creative art around the Baltic area, snapping photos and sharing time. It was a great way for people new to the city to see part of the city they might not otherwise know about, meet new people and also get some support moving forward.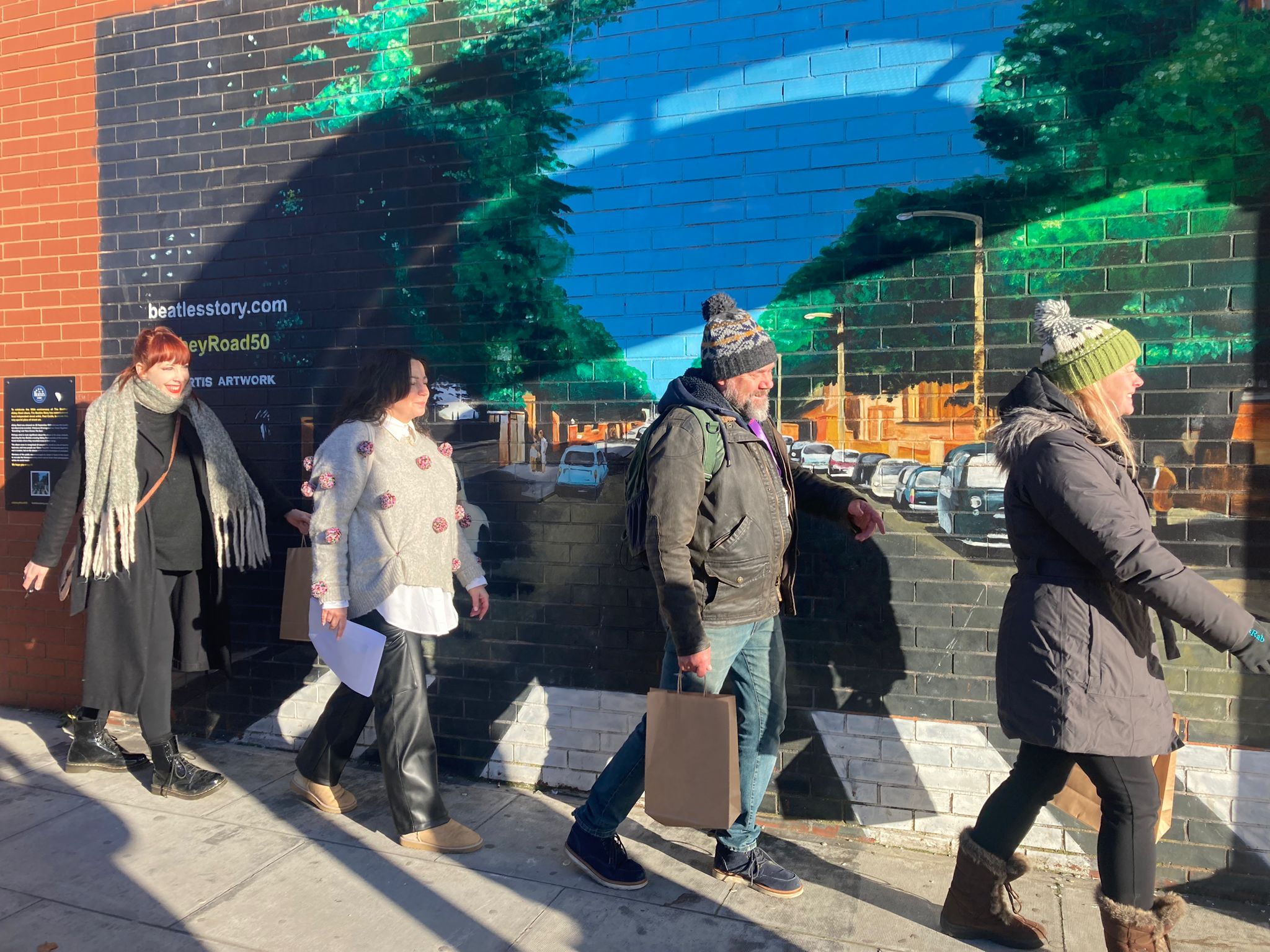 The Walk was joined by employers such as Wordscape, Baltic Creative and Tuesday Media, as well as DWP colleagues Lynne and Suzanne.
Afterwards we had a cuppa and mince pies above a community shop in the Baltic Northern Lights area, where some people took advantage of the groceries on offer. We met people from Ukraine, Algeria, Iraq and Afghanistan as well as Liverpool, and this was the real beauty of it all, we welcomed a family too, it was lovely to be accompanied by two little ones ? Whether an employer, local person, new arrival or government department we all shared a desire to build connections from which we know good things will happen.
Thanks to DWP and the Council for supporting us in sending out the invites and coming along.
We had so much interest we had to close the invitation, but we are already planning the next one on February 1st, 12pm. We're now busy following up with the warm links we made with 17 people who asked for support with employment, wellbeing and all had a general need to meet new people and feel part of the community.
"Without a doubt the walk was my favourite day of the year. Walking side by side helps the conversation flow so much easier, even if you do have to use Google Translate! It meant connections happened naturally like between Anna, a marketing graduate from Ukraine and a digital marketing company. No old fashioned business cards needed, it's 2022 so Instagrams were swapped, who knows where that might lead."
- Lauren Bailey-Rhodes, Operations Manager, TLC
"Walking, making new friends, eating cake, slurping coffee; It's a winning walking formula for me.

Last week, it was Baltic in the Baltic. We braved the cold and, had our hearts warmed by a gathering of wonderful people. Much appreciation to Charlie and Sophie for translating into Ukrainian and sharing the information about the area and the amazing street art. I even met someone I had been coaching with for six months. We had never had chance to meet in person. That was a great surprise. I didn't even know she would be there. Looking forward to the next. "
- Lee Fishwick, Director of Training and Personal Development, TLC
Please This email address is being protected from spambots. You need JavaScript enabled to view it. if you would like to take part in the Feb 1st Walk or future Well Walks!