Here's what's coming at TLC over the next couple of months!
Give Get Go 2023 upcoming group start dates
Prescot Community Fire Station Friday 27th Jan
The Reach Speke, Thursday 27th Jan
Community Grocery (Mann St) Exact day TBC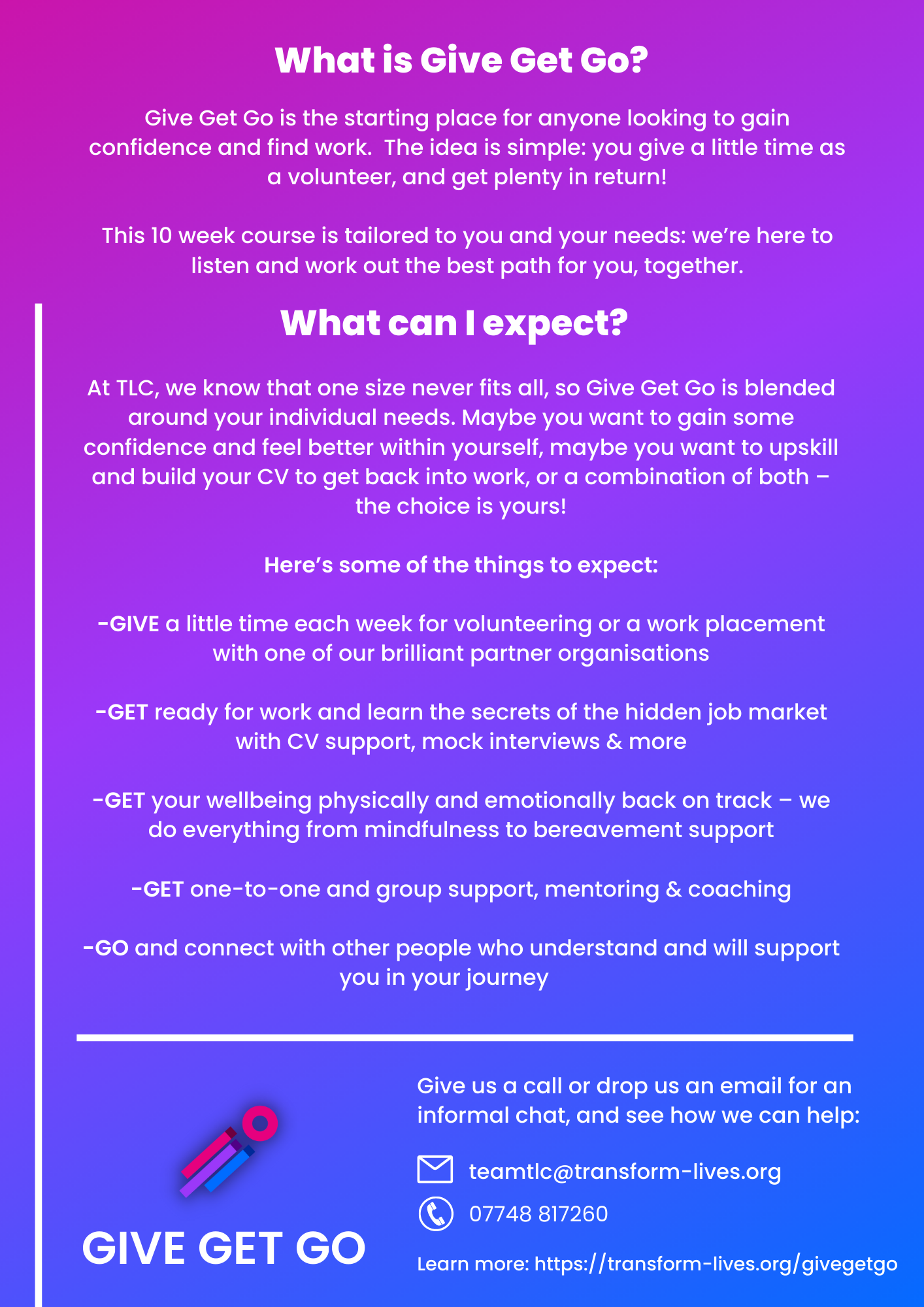 If you want to refer someone to Give Get Go, you can do so here
-----------------------------------------------------------------------------------------------
Barclays Digital Eagles Tips to Beat the Cost of Living
A 2 hour masterclass from Barclays, making sense of the cost of living, with helpful advice on managing money and smart money saving tips. Looking for work? Come and talk to the TLC team afterwards and find out if they can help you on your journey into work
Things we'll cover:
Shopping hacks (cashback sites, voucher codes, handy apps and shopping around tips to save £££s_

Budgets, debt and calculating the real cost of loans

Digital Tools- understand the tech at hand to help you save money
Who are the Digital Eagles?
Barclays Digital Eagles are here to help everyone get the most out of digital. No matter where you are on your journey, we can help keep you up to date and stay safe online.
At Barclays, our success is not only judged by our commercial performance but also our contribution to society, Digital Eagles play a critical part in that by helping people increase their skills and confidence in a digital world.
Through virtual events, self-learning or becoming a digital champion we're here to help you with your digital needs.
About this course
Find out how you can help yourself. From budgeting to borrowing, you'll explore the different techniques to support you and your family plan and prepare for financial resilience.
Wednesday 18th Jan 10.30 The Reach Speke - Book onto the session here
Thursday 19th Jan 10.30 The Brain Charity - Book onto the session here
----------------------------------------------------------------------------------------------------------------------------------------------
In Work Support
Wednesday or Thursday evenings 6pm to 8pm, starting January 2022
People everywhere are impacted by the cost of living crisis, with families especially feeling the pinch - and that's before we've hit winter and the rising fuel costs.
People in low paid, insecure, zero-hour jobs are at a high risk of falling into debt.
If you're currently in work but struggling to makes ends meet or struggling with the stress and anxiety of these difficult times, we want to hear from you.
We can help with:
Finding more secure or better paid employment
Ensuring you're getting all the financial support you're entitled to
Managing the stress of the times we're in
We know that reaching out for help is often a big step, but even if you've never had to ask for help before, these are unprecedented times.
Please get in touch with us for an informal chat to see how we can help.